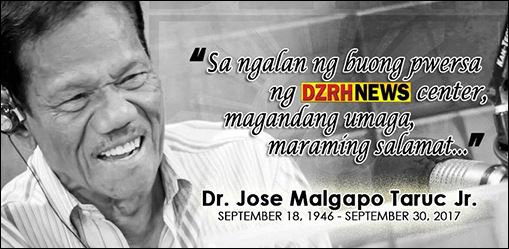 Usual ending lines from Joe Taruc in his program, "Damdaming Bayan" (photo: DZRH Twitter)
On my elementary days, whenever I wake up in the morning, I always listen to the radio while eating breakfast. One of the voices that I always hear every 5 to 8 in the morning is an old, jolly man. He always deliver news straight to the point, a real "one-of" in news casting, and my best alarm clock. His name is Joe Taruc.
Taruc (real name: Jose Malagpo Taruc, Jr.) was born on Sept. 17, 1947 in Gapan, Nueva Ecija. He was one of the pioneers in the radio industry in the Philippines. He spearheaded the first radio station of ABS-CBN, the DZAQ Radyo Patrol. During the 80's, he worked on DWWW 630 (now DZMM), where he hosted a morning program with Noli de Castro.
In 1991, he moved to DZRH, the oldest radio station in the Philippines. He hosted numerous news and public affairs program, mainly in the morning. One of his most popular was "Damdaming Bayan" (Nation's Sentiment), where he interviews popular people, politicians, businessmen, etc. At the same time, he asks for the sentiments of the people regarding today's issue.
This program was my favorite one of Joe Taruc. He was the one of the people who inspired me to become a journalist. And, although I didn't become involved in radio broadcasting, the essence of Taruc's was the one I used when I once judged talents for our radio broadcasting.
Today, radio would never be the same again. He passed away just 13 days after his 70th birthday. I was in Apalit, Pampanga at the time, so when I came home, I was stunned and shocked about his death. Even if I never saw him personally, it feels like I've lost a father. It may sound strange to most, but for someone who was greatly influenced by his charisma, it's a once in a lifetime feeling.
As he is now laid to rest, the memories of one of the greatest voices of radio will never be forgotten
#PaalamJoeTaruc